AIS-Sim 5.2 High Speed NMEA-AIS Simulator
New features: Optional automatic AIS true heading simulation in the AIS Message 1 configuration dialogue. This is useful if steering the AIS target with a track file. Improved Track file format which now allows negative relative heading changes and is more error tolerant. Also there is a new built in Track and Log file Editor.
AIS SART target simulation and display. These SART devices are personal Search and Rescue AIS transmitters, usually water activated, which indicate the position of a MOB (man overboard) casualty as an aid to safety. They use the previously reserved navigation states of 14 and 15 in message 1 to indicate SART Active and SART Test. New HTML help system compatible with all Windows® versions.
AISsim Version 5.2 also has High Speed Position simulation. AISsim now resolves the position of the simulated vessel at up to 10 times per second in the NMEA1 parser field, for the simulation of survey grade GPS receivers.
AISsim has the ability to simulate the output of magnetometer type transducers by the introduction of Magnetic Waypoints. These can be buried in the AISsim chart and rendered invisible so that an operator can test their survey skills and try to locate them. Planning and executing a survey using the Boat Control Console. can improve your mag survey skills without leaving the shore. Feed the simulated mag data to your survey system e.g. Portable Navigator Survey for realistic survey simulation and training.

AISsim provides the ability to simulate different tracks for "own vessel" and "target" with the possibility of steering one or both with a track file. There is an extended simulator dialogue to configure this with an access button on the main toolbar. See what you are simulating, AIS-Sim uses Portable Navigator charts to show you the output of the simulator in graphical form. PN Chart making tools are now included. Simulated vessels can now be steered with the new Boat Control Console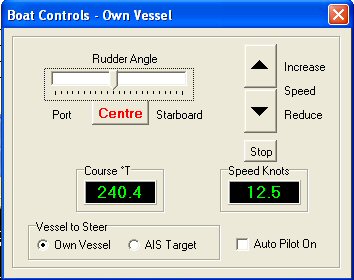 New Features:

Automatic AIS True Heading simulation
Improved track file format and editing
SART target simulation and display
High speed position simulation
Simulate buried magnetic targets for magnetometers
Steer the simulated vessels with the Boat Control Console
Improved PN Chart making tools are now included with AISsim
Separate own track and target simulation
Target Scenarios can be saved and reloaded
Start positions and descriptions saved in a drop down history list
One, two and three part message type 5 encapsulation
Improved COM port exception handling
New DDE NMEA server with separate items for GPS and AIS
Instant access to simulator configuration from main toolbar
Revised help file and other improvements
Windows 7 - 10 compatible with new Track file Viewer/Editor
Minor bug fixes